For years, The Meadows Home have satisfied clients all over the state of Nevada and the rest of the country. We are proud to say that we have a team of vibrant and vigorous staff and attendants who are willing to serve you or a loved one in any means possible.

It is part of our mission to deliver the right level of comfort and care that signifies excellence towards health care service. We, at The Meadows Home, believe that everyone can enjoy life's sweetness with the right facility that is surrounded with committed people.
Think of the best possible care you can give to yourself or a loved one. You can call us at (702) 985-1382.
At The Meadows Home, we are committed to provide the highest quality of personalized home care service in order to enhance the quality of life of our residents in a warm family-like atmosphere. We firmly believe in promoting respect, dignity, individuality and independence towards our clients.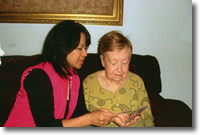 The family and friends of our residents are encouraged to work with our staff in planning for their care. This cooperation helps make our home a valuable asset to the community. We fulfill the needs of many types of people diagnosed with Alzheimer's disease and other forms of Dementia.
We consider each candidate for admission on an individual basis. Monthly rates are based on the resident's required level of care. See for yourself how our commitment translates into excellent services provided by our team of care providers.
At The Meadows Home, you are part of our family.
We welcome you to visit our lovely home today. Call us at (702) 985-1382.